Books
The Destiny of Humanity
" I am confident that this book will surely attract public attention to the important task of building a peaceful and prosperous world for all."
"A pointing of horizons and goals to which we must be aware. The quest for harmony and a blend of attitudes that could reach the heights of the global and total dignity of human beings."
Jose Maria Neves, Prime Minister, Cape Verde
"It is the kindness of people like you that continue to renew my confidence about what we, as Americans, can achieve together."
Jill Biden, Second Lady, United States of America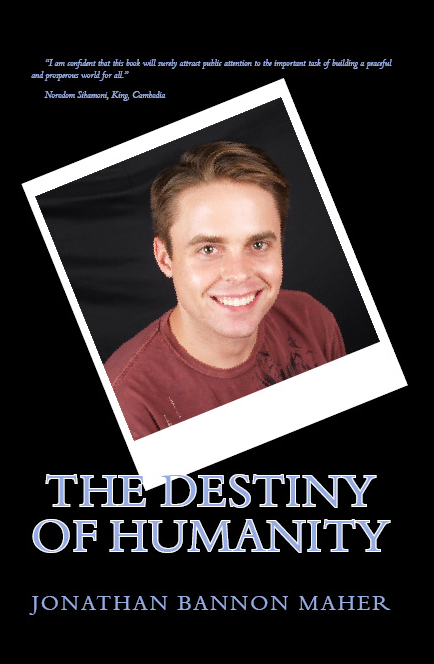 (
download (pdf)
,
correspondence
,
Barnes & Noble
, Amazon
soft cover
/
Kindle
,
cover
)
The Destiny of Humanity is the first book to have ever been ever written for and sent to the leaders of every country on Earth, and contains all biographical information and policy positions. Shortly after distribution, Russia, Iran & North Korea called for an end to nuclear weapons, the United Nations passed the first gay rights resolution, Canada, Australia & India called for geothermal energy, China, America & Russia called for commercial and deep space exploration, Burma suddenly began a democratic transition, Barack Obama after receiving the book on May 12th, 2011, immediately presented all of the policies and ideas in my book, including on education, energy, national security, and jobs, as his own, writing his May 19th Arab Spring speech directly lifting lines on universal human rights and the economic costs of repressing half the population, and the King of Morocco who praised my work then required equal opportunity for women in a new constitution. In Spring 2012, the book was also sent to the heads of relevant technology companies, such as Google, SpaceX/Tesla, Virgin Galactic, and Blue Horizon, who then implemented the HyperLoop, Google Fi, Planetary Resources funding, and artificial intelligence warnings.
Building a Successful Organization
"If you are looking for concise instructions on how to build a successful organization, you can't make a better choice than this book."
" ...a potpourri of information covering the gamut of business operations..."
Kirkus Reviews
"The chapter on Decision Making will be especially appreciated by anyone who has had to deal with business politics."
Peter Georgotas, Investor Relations Officer, DryShips (NASDAQ)